The invention of transformers has revolutionized the way power is transmitted and voltage is regulated. There is a wide array of transformers available for effective transmission and distribution of power and they are categorized based on several criteria. Transformers are broadly classified as step up or step down based on the voltage level. Step-up transformers are designed to increase voltage, whereas step down transformers are for reducing electrical voltage. We at Custom Coils are a proven source that has been providing standard and customized step down transformers for decades to industries world-wide. You can rely on us when you need customized, durable and high-performance step down units at value driven prices.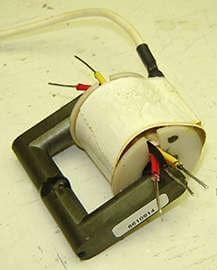 In step-down transformers, there are more turns on the primary coil as compared to the secondary coil. By using a step down unit, you can convert high-voltage, low-current power into low-voltage, high-current power. The use of step down units has been widely accepted in reliable and safe transmission of power to industrial systems or household appliances.
We take custom orders as well. With specialized proprietary techniques and by utilizing experienced personnel, we fulfill customized orders in accordance with your most stringent specifications. We have maintained a user-friendly website to provide all information on step down units. We have a team of knowledgeable customer care executives who are available always to address your questions. Please call us today; we look forward to working with you on your future projects.
Meet your expectations by requesting a quote for step down transformer at Custom Coils.