Welcome to Custom Coils, your reliable and trusted source for first class Hydrogen coils. We are experienced in manufacturing Hydrogen (H2) generator coils. Our most popular coil uses 2000 turns of 23 AWG magnet wire evenly wound around a National Magnetics Ferrite Toroid core (OD = 3.32, ID = 1.725, HT = 0.500).Using state-of-the-art winding techniques and equipment we manufacture our most popular Hydrogen coil with: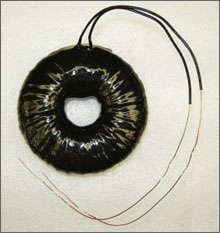 Inductance of
800mH ± 25%
Physical Specifications
Outside Diameter: Go-No-Go Test using 4″ CPVC pipe schedule 80.
DC Resistance: 12 Ω ± 15%
More about construction and design
We use one single wire to wind 2000 turns around a Ferrite core. The start and finish lead wires are 12" long, stripped and tinned, then sleeved with a 6" piece of 20 AWG acrylic-coated fiberglass sleeving. The finished coil is then dipped in an epoxy resin (black). This is done to provide extra protection to the magnet wire. We check every coil for its inductance and wire resistance before being shipped to our end customers.
We are known for being one of the premier manufacturers of custom transformers and inductors. We have been serving our customers with the winding and building of Hydrogen Coils by sticking to their exact design specifications. With expertise, experience and tested manufacturing procedures we deliver custom Hydrogen (H2) coils that meet your specifications.
Meet your expectations by requesting a quote for hydrogen coils at Custom Coils.