The use of flyback transformers has been largely recognized and appreciated in applications including communication and power applications such as switching power supplies, converters and inverters. Low cost, simplicity in design and ease of providing multiple outputs has made them popular in many applications today. The transformer is ideal for applications with high switching frequencies and is best suited for use in DC/DC converters for industrial controls. The transformer can operate in either continuous or discontinuous mode depending on load and input voltage. The transformer has the ability to temporarily store energy that it gets from the input voltage and current.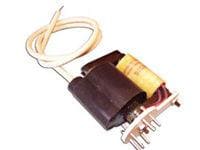 Design
We use different shapes and sizes of superior quality materials in the making of flyback transformers. However, ferrite cores are highly preferred and the most popular as they are available in a wide assortment of geometries and can be custom gapped as per the project requirements of customers. Transformers of different design specifications can use ferrite cores from really small geometries like E16 and P11 Pot cores up to very large U64 and U9316 cores. To enhance performance, the windings of flyback transformers are encapsulated with high-quality insulation systems such as epoxy compounds and silicone based compounds.
Since our inception in 1967, we have been designing, manufacturing and delivering world class transformers by meeting our customers' stringent design specifications and quality standards. We are the proven leader in the magnetic industry and provide best-in-class flyback transformers that operate at frequencies from 20 KHz to 200 KHz.
Meet your expectations by requesting a quote for flyback transformers at Custom Coils.