Transformers are available in several types with varied specifications for different purposes. Voltage-based transformers are one of the categories of transformers that play a significant role in electrical grid network. Available in varied configurations, these transformers are widely used in substations, electrical and electronic equipment, rectifier circuits, and inverters, among others. Considering the demand and wide popularity, voltage based transformers are produced and supplied by several manufacturers. Custom Coils is one of the leading and trusted manufacturers of voltage-based transformers in the US. With many years of experience and manufacturing expertise, the company offers performance driven transformers at value-driven prices. What are the different types of transformers provided by Custom Coils? What are the benefits of purchasing these transformers from the company?
Custom Coils is your Go-to Location for Step-Up and Step-Down Transformers
At Custom Coils, voltage-based transformers are offered in two types namely, step-up and step-down transformers. The two transformers vary each other in terms of the amount of voltage produced, and the number of windings in the coils.  The following definitions will help you understand the types better.
Step-Down Transformers: This type of transformer is designed with more windings in the primary coil than secondary coil. Due to this construction, the transformer produces more primary voltage than secondary voltage. The transformer does the function of converting high-voltage, low-current power into a low-voltage, high current power. These are primarily used for domestic purposes.
Step-Up Transformers: This transformer type is designed exactly opposite of the step-down transformer. These power transformers are characterized by more windings in the secondary coil than with respect to the primary coil. As a result of this, the transformer produces more secondary voltage than primary voltage. Step up transformers are manufactured to convert low voltage, high-current to high voltage-low current. Unlike step-down transformers, these units find applications in power plants, and other demanding industrial applications requiring high voltages.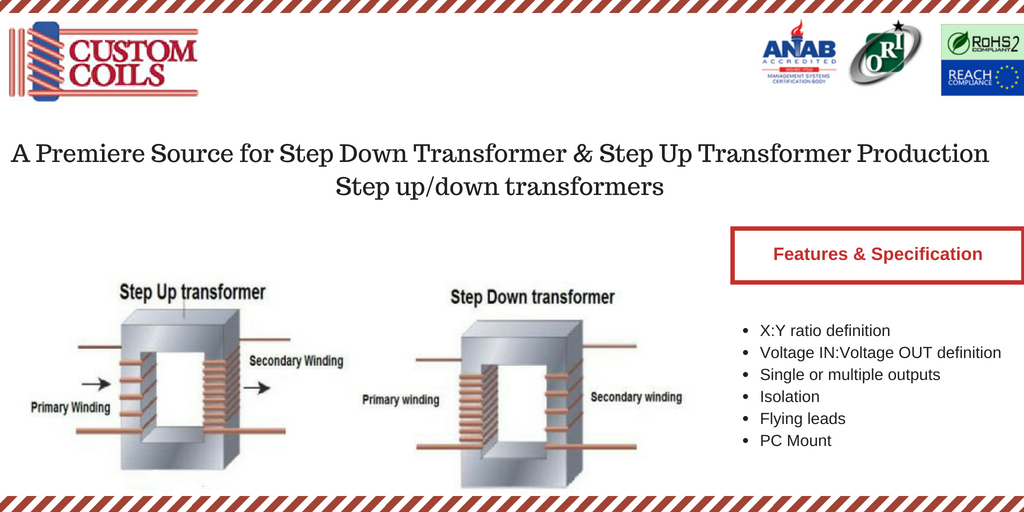 Reasons to Buy Voltage-based Transformers from Custom Coils
The following advantages have contributed to our popularity as one of the leading voltage-based transformers in the US:
Quality: Custom Coils designs voltage transformers that are known for their operational efficiency, durability, and ability to withstand extreme temperatures. We use only the finest quality ferrite cores, reliable epoxy based insulation systems, bobbins, and high-grade magnetic wire which enables the company to offer world-class transformer solutions for applications in demanding environments.
Rigorous Testing after Production: Each product undergoes rigorous testing at our facility before being shipped to the client. This has helped us reduce product returns and customer complaints.
Customer Service: Our experts help customers through every phase of transformer procurement including – quoting to design, as well as manufacturing to testing.
Customized Products: At Custom Coils, customization is easy and cost-effective. As a customer, you may provide details for the following criteria.

Maximum length, width, and height
Operating Frequency
Inductance
Operating Mode
Input Voltage
Output voltage
Output current
Special requirements in terms of ripple current and test requirements
So, whatever specifications you provide, they can be incorporated in the design by the Custom Coils engineers.  Custom Coils will provide the best performing voltage-based transformers with a high level of service that is second to none.
Related Products